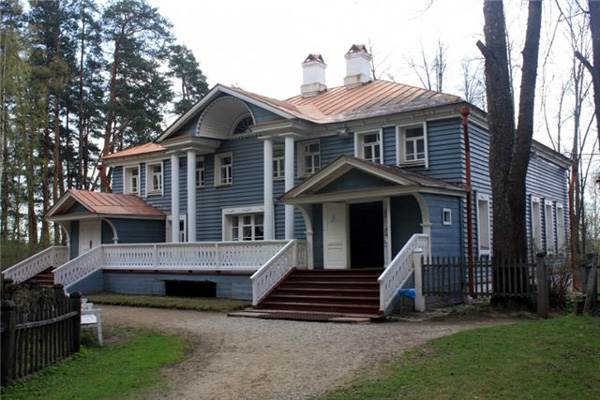 Alexander Ostrovsky House-Museum in Shchelykovo
SHCHELYKOVO

Shchelykovo is a State Natural Memorial Estate of A.N. Ostrovsky. For the first time, Shchelykovo was mentioned in the cadastres of the 18th century as an uninhabited «Shchalykovskaya wasteland». In 1847 the estate was acquired by the playwright's father Nikolai Ostrovsky. In May 1848 Alexander Nikolayevich Ostrovsky visited Shchelykovo for the first time and immediately fell under the spell of the beauty of the nature. He called Shchelykovo «the Kostroma Switzerland» and insisted that not even in Italy had he ever seen such beauty.

«What a river, what a mountain, what a forest! .. If this county was near Moscow or Petersburg, it would have turned already into an endless park, it would have been compared to the best places in Switzerland and Italy», Ostrovsky wrote in his diary. Since 1867, Alexander Nikolayevich spent every summer here. Life in the country estate restored the playwright's health, his mind and spirit. Among his favourite pastimes in the estate were walks in the neighborhood, hunting, picking berries and mushrooms, fishing.

In Shchelykovo Ostrovsky wrote nineteen out of forty-eight original plays, among them «The Forest», «Wolves and Sheep», «Without a Dowry», «Late Love». Shchelykovskaya nature inspired the playwright to write the spring fairy tale entitled «The Snow Maiden»

The heart of the memorial estate is the house of A.N. Ostrovsky, that was built in the late XVIII century and that has never been rebuilt ever since. The house is surrounded by an old park with bridges, gazebos, shady alleys - incredibly picturesque places for walking. Not far from the estate is the village of Nikolo Berezhki where the Ostrovsky family is buried. There lies buried the playwright himself. The funeral service for Ostrovsky was performed in the Nikolskaya church - a two-story stone church of the XIIIth century. Not far from the church there is an ethnographic museum – «Sobolev's House» that demonstrates peasant life of the second half of the XIX - early XX centuries.

The Boarding house for artists, a favorite recreation place for many actors, is the residence that belongs to Theatre Union of the Russian Federation (Russian acronym: STD) is located on the territory of Shchelykovo.

Shchelykovo never ceased to be the major spiritual habitat of artistic intelligentsia. All this time and up to this day it continues to live the same cultural life it used to under Alexander Ostrovsky.