DEAR FRIENDS
It is a truth universally acknowledged that Russia's regions produced a great number of talented artists. However, artists, who play outside metropolitan areas, have always had a tough life. This was one of the major themes of a remarkable playwright - Alexander Nikolayevich Ostrovsky, who loved the people of the theatre like nobody else. Ostrovsky loved the theatre and watched out for the true talents that appeared on provincial stages and dedicated some of his most prominent works to a depiction of an artist's life - «Guilty Without Guilt», «The Forest», «Talents and Admirers». The Maly Theatre that was long ago nicknamed the «House of Ostrovsky», is a veteran guardian of the playwright's legacy that we are happy to share with theatre professionals both in Russia and abroad, because as we know state borders have never divided people of art.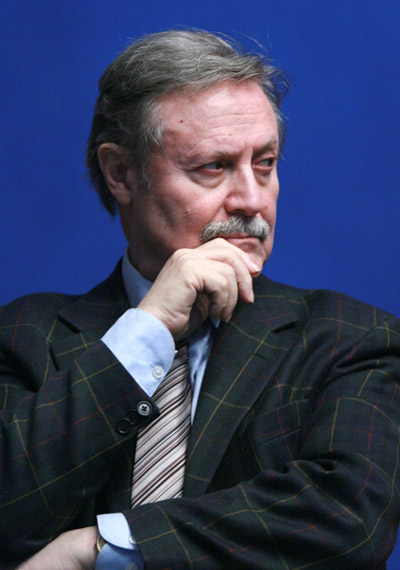 The festival «Ostrovsky in the House of Ostrovsky» is arranged to coincide with the anniversary of the birth of the playwright. Launched in 1993, the Festival was initiated to support Russian and foreign theatres fertile in talented actors and directors. The festival is a great platform for theatre professionals, critics and the audience to exchange experiences and practices. Theatres from different cities and regions of Russia present their productions of the great Russian playwright Alexander Ostrovsky on the stage of the Maly Theatre. Such communication is very important for the exuberant creative life of every artists since it gives an amazing motivation for further work.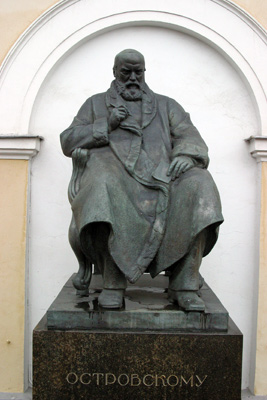 The Ostrovsky Festival, in comparison with many others, stood the test of time: over the 20-odd years of its existence, it hosted theatres from Arkhangelsk, Vladivostok, Vyshny Volochok, Omsk, Vologda, Lipetsk, Krasnoyarsk, Vladikavkaz, Tolyatti, Yaroslavl, Kostroma, Syktyvkar, Ulyanovsk, Minsk, Krasnodar, Veliky Novgorod, Orenburg, Voronezh, Samara and other cities. And this means that people truly need this festival – both theatre professionals and theatre spectators. After all, the plays of «Russia's Shakespeare» are as relevant as ever and fetch a laugh and tears from the audience, and his splendid figurative language is full of explicit judgments and expressions. Loyalty to the classics is not an attribute of absence of path-breaking ideas, but it is rather an evidence of the existence of timeless values.


Artistic Director of the Maly Theatre

People's Artist of the USSR

Yuri Solomin
FESTIVAL CHRONICLES
I Festival «Ostrovsky in the House of Ostrovsky»
(April 1993)
«Wolves and Sheep» (The Samara Academic Drama Theatre named after M.Gorky)
«The Forest» (Tula State Academic Drama Theatre named after M.Gorky)
«Guilty Without Guilt» (Lipetsk State Academic Drama Theatre named after L. Tolstoy)
«An Ardent Heart» (Maly State Academic Theatre of Russia)

II Festival «Ostrovsky in the House of Ostrovsky»
(April 1996)
«Guilty Without Guilt» (Oryol State Academic Drama Theatre named after I.S. Turgenev)
«Wolves and Sheep» (Penza Drama Theatre named after A.V. Lunacharsky)
«A Happy Day» (Belgorod Theatre named after M.S. Shchepkin)
«The Last Sacrifice» (Primorsky Academic Drama Theatre named after M. Gorky, Vladivostok)
«There Was Not a Single Penny, and Suddenly There is a Dime» (Maly State Academic Theatre of Russia)
«An Ardent Heart» (Maly State Academic Theatre of Russia)
«Wolves and Sheep» (Maly State Academic Theatre of Russia)

III Festival «Ostrovsky in the House of Ostrovsky»
(April 1998)
«It's a Family Affair-We'll Settle It Ourselves» (St. Petersburg Drama Theatre named after A.S. Pushkin)
«The Bankrupt» (Theatre «Wheel», Tolyatti)
«Talents and Admirers» (Lipetsk State Academic Drama Theatre named after L. Tolstoy)
«In A Lively Place» (Russian Academic Drama Theatre named after G. Konstantinov, Yoshkar-Ola)
«The Forest» (Maly State Academic Theatre of Russia)

IV Festival «Ostrovsky in the House of Ostrovsky»
(April 2000)
«Enough Stupidity in Every Wise Man» (Russian State Academic Theatre named after F.G. Volkov, Yaroslavl)
«A Profitable Position» (Academic Theatre of Drama named after A.V. Koltsov, Voronezh)
«Money to Burn» (Rostov Academic Drama Theatre named after M.Gorky)
«Vasilisa Melentyeva» (Academic Russian Theatre named after E. Vakhtangov, Vladikavkaz)
«Slaves» (State Academic Drama Theatre named after M.Gorky, Krasnodar)
«Wolves and Sheep» (Maly State Academic Theatre of Russia)

V Festival «Ostrovsky in the House of Ostrovsky»
(April 2002)
«There Was Not a Single Penny, and Suddenly There is a Dime» (Bryansk State Drama Theatre named after A.K. Tolstoy)
«The Last Sacrifice» (Kostroma State Drama Theatre named after AN Ostrovsky)
«It's Not All Shrovetide for the Cat» (Oryol State Academic Drama Theatre named after I.S.Turgenev)
«A Handsome Man» (Novgorod Academic Drama Theatre named after F.M. Dostoyevsky)
«The Snow Maiden» (Smolensk Regional State Drama Theatre)
«The Forest» (Maly State Academic Theatre of Russia)
«Wolves and Sheep» (Maly State Academic Theatre of Russia)

VI Festival «Ostrovsky in the House of Ostrovsky»
(April 2004)
«An Ardent Heart» (Kostroma State Drama Theatre named after A.N. Ostrovsky)
«A Profitable Position» (Samara Academic Drama Theatre named after M. Gorky)
«Late Love» (Arkhangelsk Drama Theatre named after M.V. Lomonosov)
«Balzaminov, Balzaminov! ..» (Vologda State Drama Theatre)
«Money to Burn» (Theatre of Young Spectators named after A.A. Bryantsev, St. Petersburg)
«The Forest» (Maly State Academic Theatre of Russia)
«Wolves and Sheep» (Maly State Academic Theatre of Russia)
«Truth is Good, But Happiness is Better» (Maly State Academic Theatre of Russia)
«Enough Stupidity in Every Wise Man» (Maly State Academic Theatre of Russia)

VII Festival «Ostrovsky in the House of Ostrovsky»
(April 2006)
«The Forest» (Maly State Academic Theatre of Russia)
«A Profitable Position» (Oryol State Academic Theatre named after I.S. Turgenev)
«The Last Sacrifice» (Maly State Academic Theatre of Russia)
«Slaves» (Tver Academic Drama Theatre)
«The Marriage of Belugin» (Tula State Academic Drama Theatre named after M. Gorky)
«Truth is Good, But Happiness is Better» (The State Academic Maly Theatre)
«Talents and Admirers» (Krasnoyarsk Drama Theatre named after A.S. Pushkin)
«Money to Burn» (Vladimir Academic Regional Drama Theatre named after A.V. Lunacharsky)
«Enough Stupidity in Every Wise Man» (Maly State Academic Theatre of Russia)

VIII Festival «Ostrovsky in the House of Ostrovsky»
(October 2008)
«The Bankrupt» (Kemerovo Regional Drama Theatre named after A.V. Lunacharsky)
«The Last Sacrifice» (Maly State Academic Theatre of Russia)
«Truth is Good, But Happiness is Better» (Ulyanovsk Drama Theatre named after I.A. Goncharov)
«The Forest» (Belgorod State Academic Drama Theatre named after M.S. Shchepkin)
«The Bankrupt» (Academic Russian Theatre named after E.B. Vakhtangov of the Republic of North Ossetia-Alania)
«Late Love» (Vyshnevolotskoy Regional Drama Theatre)
«Dmitry The Pretender and Vasily Shuisky» (Maly State Academic Theatre of Russia)

IX Festival «Ostrovsky in the House of Ostrovsky»
(April 2010)
«Enough Stupidity in Every Wise Man» (Maly State Academic Theatre of Russia)
«Glumov» (Kazan Academic Russian Grand Drama Theatre named after V.I. Kachalov)
«Enough Stupidity in Every Wise Man» (Nizhny Novgorod State Academic Drama Theatre named after M. Gorky)
«The Marriage of Belugin» (Tver Academic Drama Theatre)
«The Last Sacrifice» (Seversky Theatre for Children and Young People)
«The Snow Maiden» (Kostroma State Drama Theatre named after A.N. Ostrovsky)
«The Last Sacrifice» (Maly State Academic Theatre of Russia)

X Festival «Ostrovsky in the House of Ostrovsky»
(January 2013)
«Truth is Good, But Happiness is Better» (National Academic Drama Theatre named after M.Gorky, Minsk)
«Money to Burn» (Orenburg State Regional Drama Theatre named after M. Gorky)
«Money to Burn» (Ryazan State Regional Drama Theatre)
«Enough Stupidity in Every Wise Man» (Omsk State Academic Drama Theatre)
«The Storm» (Theatre-studio «Revelation», Moscow)
«Wolves and Sheep» (Maly State Academic Theatre of Russia)

XI Festival «Ostrovsky in the House of Ostrovsky»
(April 2015)
«Late Love» (St. Petersburg State Youth Theatre on the Fontanka)
«Truth is Good, But Happiness is Better» (The State Academic Drama Theatre named after V.Savin, Syktyvkar)
«Poverty Is No Crime» (Maly State Academic Theatre of Russia)
«Truth is Good, But Happiness is Better» (Kursk State Academic Theatre named after A.S. Pushkin)
«Wolves and Sheep» (Rybinsk Drama Theatre)